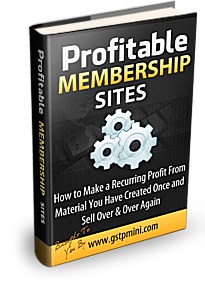 Profitable Membership Sites is an internet marketer's must-read guide to all the relevant factors involved in starting up a membership site that focuses on the necessary steps to undertake to become a sure success. Full of useful information that you will find easy-to-follow and understand, it includes quality resources that you will certainly use in the future, and instructions that you can follow step-by-step at your own pace in your own timeframe.
This guide takes you by the hand and shows you about the different types of membership sites, how to setup a membership site and populate it with quality content, some inexpensive time-saving tools you can utilise to put your business on autopilot, how to market your business to attract new members, and a 5-step action plan to follow.
The whole package is developed so you can put the entire plan into action in bite-sized, manageable pieces to come together and generate a solid, dependable income you can rely on.
Divided into eight modules, Profitable Membership Sites gives you everything you need to know to start earning higher commissions. I cover all the bases and leave no stone unturned! Whether this is your first attempt to make money online, or you're a seasoned marketer looking for an exciting new opportunity, you're sure to find every resource you need in this course.